The WPP Scangroup company has suspended its Chief Executive Officer and Chief Financial Officer over alleged financial misconduct.
The company, a subsidiary of the WPP, announced the decision in a press statement released early Friday morning.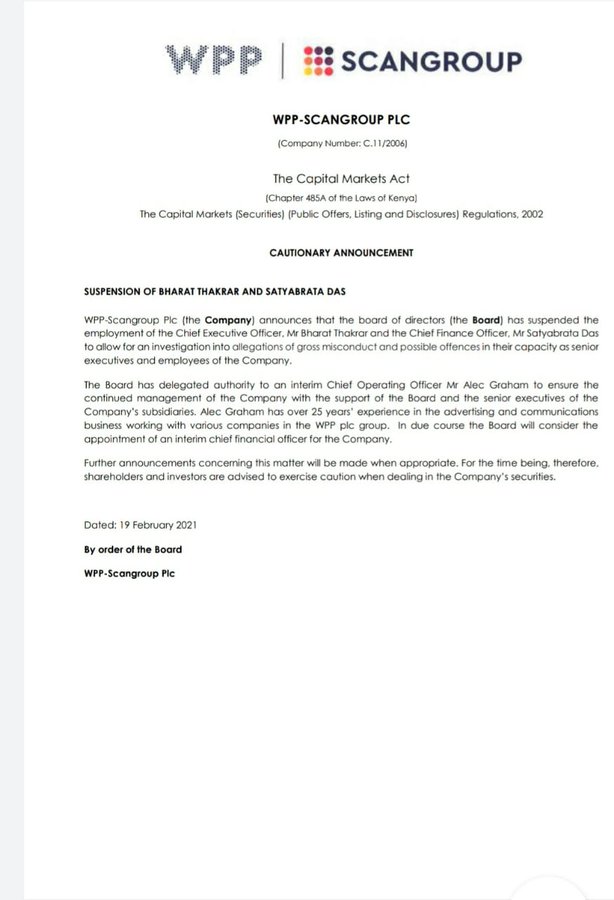 Move to open the way for investigations
"WPP Scangroup Plc announces that the Board of Directors has suspended the employment of the CEO, Mr. Bharat Thakrar, and the CFO, Mr. Satyabrata Das," the company said. The move was to open the way for investigations into alleged gross misconduct.
"(The suspension) is to allow investigations into allegations of gross misconduct and possible offenses in their capacity as senior employees in the Company."
The largest marketing firm in Sub-Sahara
The WPP-Scangroup is the largest marketing and communication group that operates in different agency models in Sub-Saharan Africa. The group comprises of ad agencies such as SCANAD and Ogilvy & Mather. It also has media firms called GroupM, MediaCom Africa, Mindshare, and MEC.
The company headquarters is in Nairobi, with Bharat Kumar Thakrar a minority shareholder in the company. Thakrar, a Kenya national, was the founding CEO of the company, having started it as SCANAD. The company grew and, as of 2017, had a valuation of about Ksh 7 billion.
Following the company's growth, the British multinational advertising and PR firm, WPP, acquired the majority stakes in the company. That saw Scangroup become listed in the Nairobi Securities Exchange.
Interim Chief Operating Officer
The company said that they had put Mr. Alec Graham in charge to continue running the company.
"The Board has delegated authority to an interim Chief Operating Officer, Mr Alec Graham, to keep the management of the Company with the support of the Board."
According to the company, Graham is the best fit to manage the company owing to his 25-year experience in advertising and communication. He has also worked with various companies in the WPP Plc Group.