Controversial gospel musician Bahati set social media ablaze after recently promising to give his wife Diana Marua the wedding of a lifetime. Baba Mueni revealed that after the couple survives the coronavirus, he will provide her with the most prominent wedding Kenya has ever seen.
He only hoped things would get back to normal after the pandemic.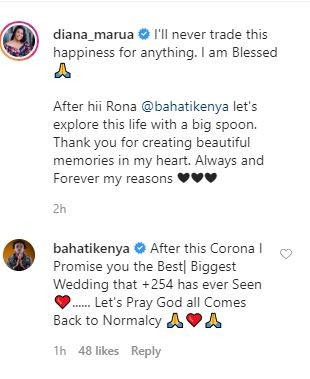 "After this corona, I promise you the best/biggest wedding that +254 has ever seen. Let us pray to God all come back to normalcy," Bahati promised.
Bahati's comment comes after Diana uploaded a sweet message on social media. She proclaimed her blessings. Diana further went ahead to claim she would never trade her happiness for anything.
Bahati suggested that after the corona epidemic, they should live life largely. He went ahead to thank Marua for always being there. The Mama hitmaker acknowledged that his wife brought him beautiful memories.
"Let us explore this life with a big spoon. Thank you for creating beautiful memories in my heart. Always and forever my reasons," Bahati commented.
Fans commented congratulating them for their upcoming wedding.
Bahati and Diana have never shied away from publicizing their relationship despite getting trolled online. Most of the time, their critics critique them on the basis that Bahati is younger than Marua.
However, the couple ignores their haters and nourishes their love nonetheless.
https://www.instagram.com/p/B-kYwHiD269/
Netizens reactions
Here are some of the responses from netizens.
Munabiconstancia U are blessed D..remember to go to the mountain and pray. The devil is aliar…watu Wako na wivu aki…stay blessed and concentrate on UA family…
Lilianwekesa Just love, nothing else but pure love💖💖💖💖😍
Faithjemimmah ❤️❤️❤️ mahaters kujeni… Thunder🔥🔥🔥🔥🔥 your eyes I love you Diana
Evelynjoan92 Indeed God has blessed you soo much…you can wish for nothing more…i love you guys❤️❤️❤️❤️
Vaciousvicky Let haters hate atawafanye nini you guys are blessed continue being strong in God this is the way to keep on winning … God bless your union..❤️❤️