Despite getting the green light to reopen but under strict guidelines, several churches and mosques in Nairobi and Mombasa have decided against resuming physical services.
Among the churches and mosques that have halted the resumption of services are Citam Church and Jamia Mosque Nairobi. There are also All Saints Cathedral, Parklands Baptist and Jubilee Christian Church.
Jamia Mosque statement
In their statement, Jamia Mosque Nairobi said the directive of 100 people per service was not practical. This was due to their location in the CBD.
"Following widespread consultations with Muslims members of the Inter-faith Council and our Da'wah Committee members, we regret to announce that we shall not be opening Jamia Mosque on the 14th of July 2020 as envisioned.
"This is because the guidelines issued to limit prayers to only 100 persons per session are not practical for Jamia Mosque Nairobi given its centrality in the Central Business District of the capital city, Nairobi." The statement said.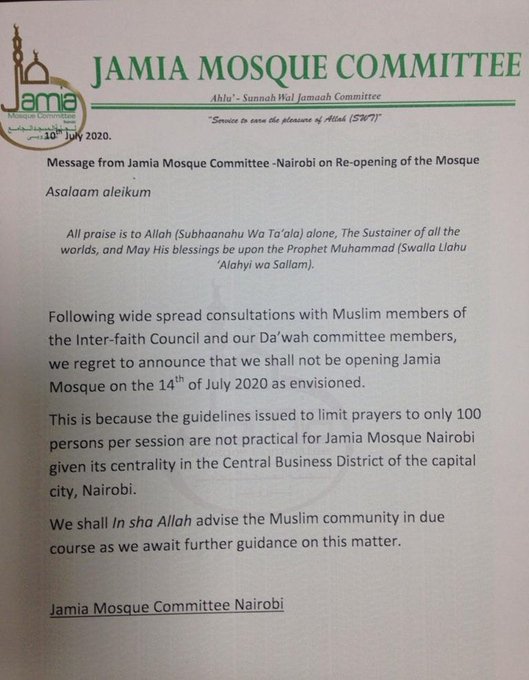 CITAM Statement
CITAM, on their part, said that they had an interest in preserving life, thus, would not risk opening.
"We wish to inform you that after due consultations among CITAM Elders and the Pastoral Team, we are of the collective view that we should not reopen our assemblies immediately.
"[…]Accordingly, all CITAM Assemblies will remain closed until further notice."
They would, however, continue with their Broadcast Services on Hope TV, Hope FM and CITAM Church Online platforms.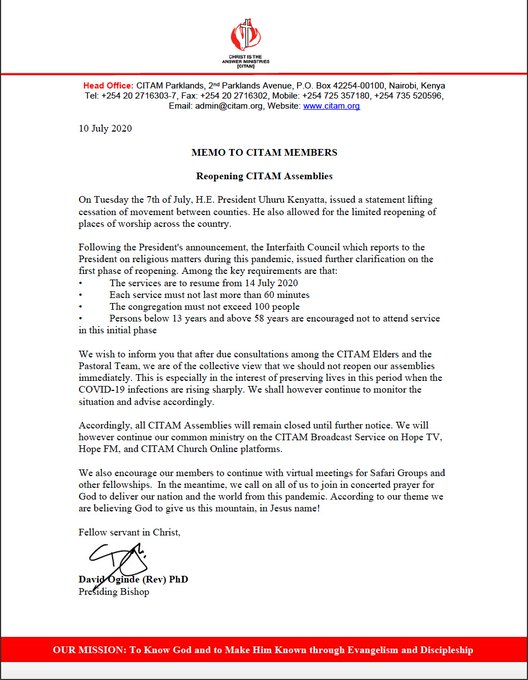 Parklands Baptist Statement
Parklands Baptist said that the 100 people limit was not sufficient to guarantee people's safety. They welcomed the move to reopen, however, but said that they would not physically be meeting.
"[…] Consequently, we shall not have physical gatherings taking place and therefore, wish to continue airing our online services and encourage you to continue connecting and engaging with us through our virtual platforms." Parklands baptist says.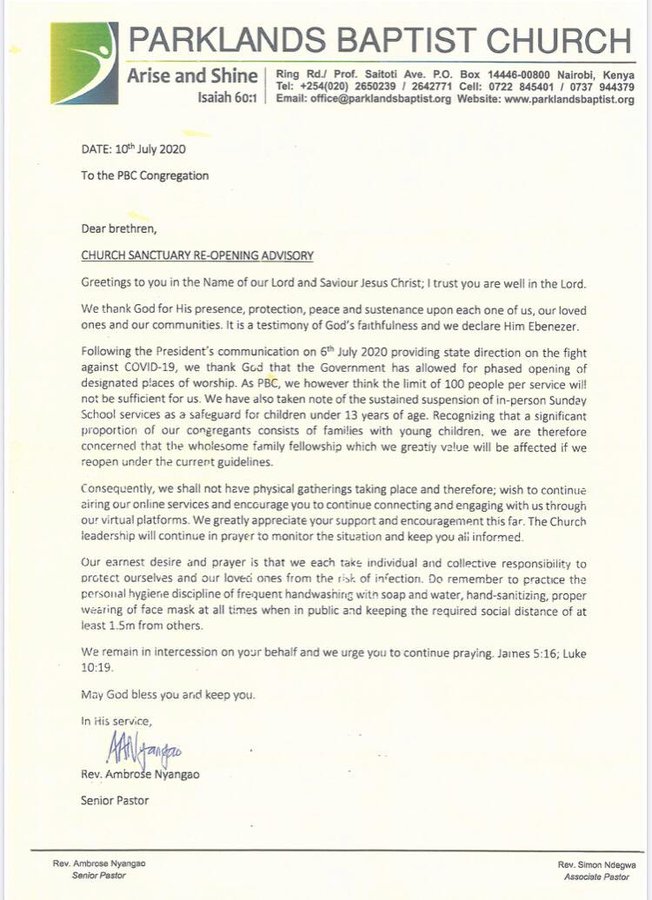 CITAM Churches statement
Indeed, many came out to support the churches for their stance as COVID-19 cases in Kenya relentlessly soar.