The Ministry has rolled out mass testing in Umoja and its environs as it continues its fight against COVID-19.
The Ministry revealed that they would be conducting the tests at the Umoja Health Centre. The exercise is funded by your tax (free-of-charge).
Nairobi Metropolitan Service
The exercise began earlier today. It is part of the government's concerted effort to establish the transmission of COVID-19 in the general population.
"Residents of Umoja and its environs are urged to visit Umoja Health Centre for Free COVID-19 Mass testing undertaken by the Nairobi Metropolitan Service and the Multi-Agency Response Team." The Ministry of Health said in a tweet.
The testing would go on from 10 am to 3 pm.
The testing in Umoja follows the roll-out of mass testing in Utawala and Eastleigh yesterday that the government undertook.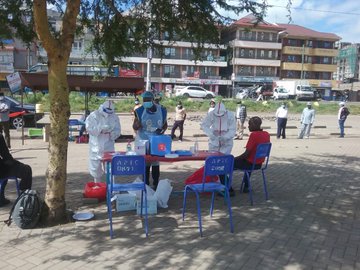 A COVID-19 testing centre in Utawala
Eastleigh
Eastleigh is one of the worst-hit areas in the country, though Kibera is fast emerging as yet another flashpoint for the virus.
The area is one of the areas in the country under total lockdown (no coming in or going out) to curb the spread of COVID-19. The other is Old Town in Mombasa. The government is also considering imposing stricter measures in Kibera too.
COVID-19 infections in Kenya rose by 31 today (Saturday, May 23, 2020), with the tally now standing at 1,192. However, there were no new fatalities and recoveries today.
Low positive percentage
The rise of COVID-19 figures in Kenya has been steady, but daily figures fluctuate widely.
According to Dr. Ahmed Calebi, the positive percentage rate remains steadily low even with higher test samples. This is according to data at the end of 10 weeks since confirming the first case.
This week, Kenya recorded a record number of new infections, with the figures peaking at 80. However, they all came up as the country ramped up its testing capacity.
The percentage of deaths, though (5%), is high in comparison to other countries at 10 weeks.