Kenyans online have launched calls for the government to release activist Mutemi wa Kiama, arrested for allegedly creating a mocking poster Uhuruto.
Following the IMF's decision to furnish Kenya with yet another loan of Ksh 255 billion, Kenyans were up in arms over the matter. They petitioned the loan shark against lending Kenya the money, with the petition now at over 200,000 signatures.
Kenyans launched the calls following blatant plunder and theft in the current Jubilee administration, which has seen Kenya's debt ceiling skyrocket.
Shared the poster
In the throes of the calls to stop IMF loans, Mutemi wa Kiama, a vocal human rights activist and the person behind the Wanjiku Revolt Twitter account, shared the poster.
Mutemi shared a 'Public Notice' poster of President Uhuru, stating that he was not allowed to transact on behalf of Kenya's citizens. Another one for Ruto also shot up after the one for the President, saying that both were not fit for holding public office.
The images went viral and were widely circulated on the hashtags #IMFstoploaningKenya and #stoploaningKenya.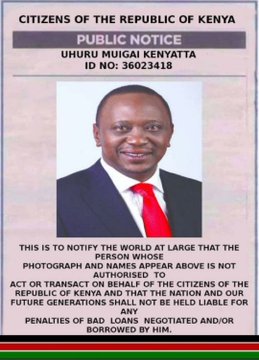 The poster that Kiama shared
Court date set for today
Following the sharing of the images, police arrested Mutemi on Tuesday evening, with activist, Boniface Mwangi, stating that he would appear before the court today.
"Activist Edwin Kiama arrested last evening. He's being taken to court this morning on cybercrime offences," Boniface Mwangi said. He said that the police were accusing him of creating the posters.
Activist Edwin Kiama was arrested last evening. He's being taken to court this morning on cyber crime offences. The police are accusing him of making the below public notice asking the world to stop lending money to Kenya. The money Uhuruto borrows is stolen. #ReleaseKiama pic.twitter.com/rNRJlheeIN

— Boniface Mwangi (@bonifacemwangi) April 7, 2021
Reports say that Mutemi is at Central Police Station and had made a few phone calls last evening before his phone went off, making him inaccessible.
Comrade @MutemiWaKiama has been arrested, taken to Central Police Station. He said arrest might be over a post he made online, but of course, as usual, no official charge yet. He made a few calls before his phone went off and has been unreachable. @WanjikuRevolt#ReleaseKiama pic.twitter.com/W6b6rZrt00

— TheNortherner (@alaminkimathi) April 6, 2021
#ReleaseKiama
Kenyans online have started the #ReleaseKiama, which trended for a better part of Tuesday evening and Wednesday morning.
"Our Resident Despot & Plantation owner does not fear his electorate but is terrified of having his "good name" tainted internationally. So, begins the repression that #LindaKatiba warns about," Activist Jerotich Seii wrote.
2. Plantation Owner continues his démarche. The Ksh500B Northlands City is on track.

Unless we stop them.https://t.co/G5jWeVA785#stoploaningkenya #YouSignYouPay #ReleaseKiama #LindaKatiba

— #SwitchOffKPLC (@JerotichSeii) April 7, 2021
#ReleaseKiama Has Uhuru and @DCI_Kenya @IG_NPS nothing better
to worry about than social media critics like @MutemiWaKiama How about investigating the 2bn stolen each day or the incessant and unnecessary loans #IMFStopLoaningKenya

— Gabriel Dolan (@GabrielDolan1) April 6, 2021
Being told that @MutemiWaKiama has been kidnapped by the state and is being held incommunicado . The role of activists play in our society is very important .#ReleaseKiama pic.twitter.com/3H8IfPw2wI

— Leon Lidigu (@LeonLidigu) April 6, 2021
Mutemi wa Kiama is currently before the Milimani Law Courts
Activist Mutemi Kiama at the Milimani Law Court, Nairobi on April 7, 2021. He was arrested over viral graphics he allegedly made warning the world against issuing loans to Kenya. Photo | Dennis Onsongo | NMG #ReleaseKiama pic.twitter.com/SQ8cYlzYyz

— Augustine Sang 🇰🇪 (@Sang_254) April 7, 2021