Embattled Nominated Senator, Isaac Mwaura, has lost his Senatorial seat, with Senate Speaker, Kenneth Lusaka, gazetting his position.
Isaac Mwaura, who has come under fire in recent times, also suffered a blow last week after the Political Parties Tribunal upheld Jubilee's decision to kick him out of the party.
In line with the constitution
In the gazette notice today, Kenneth Lusaka said that the move was in line with article 103 of the Constitution.
"It is notified for the information of the general public that pursuant to the article 103 (I) (e) (i) on the Constitution, section 37 of the Elections Act, the seat of the Member of Senate, under article 98 (I) (d) of the Constitution of Kenya, and held by Hon Isaac Mwaura Maigua became vacant, effective from May 7, 2021," read the gazette notice dated May 10, 2021.
Mwaura's ouster came just a few minutes after the Senator had taken part in the vote passing the BBI, where he had voted yes to the Constitution Amendment Bill.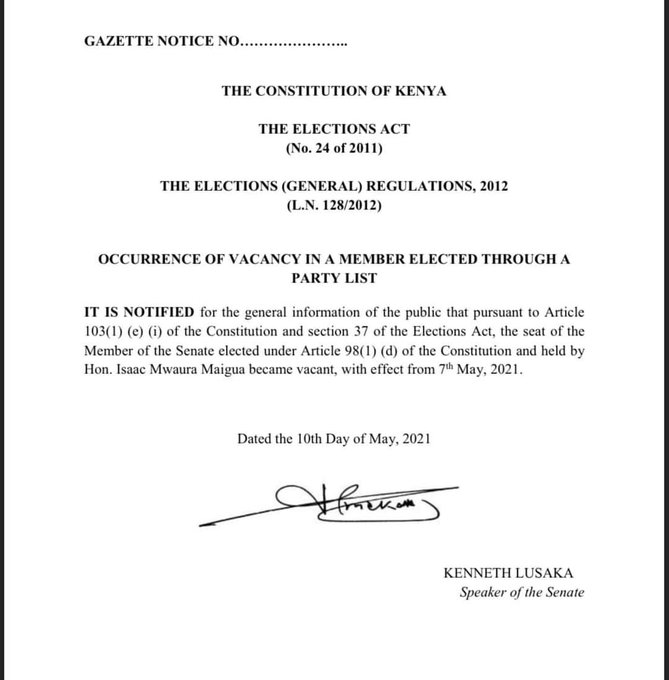 Expelled with five others
Mwaura was nominated by Jubilee in 2017 and had been one of six nominated senators allied to Deputy President William Ruto, who Jubilee showed the door. Desma Nungo, head of the Political Parties Tribunal, had ruled that Jubilee Party had followed the due process in dismissing him.
After his expulsion as a Nominated Senator, his fate is now with President Kenyatta. If the President does not intervene, then Jubilee will expunge his name from the party membership.
Hustler Nation troubles
Mwaura got himself on the wrong side of Jubilee's hierarchy when he officially declared he was joining the DP in 'Hustler Nation' in January 2021.
That move swiftly led to the expulsion of Mwaura with the other five MPS, including Millicent Omanga, Victor Prengei, Naomi Jillo Waqo, Mary Seneta and Falhada Dekow Iman.
Then in March, the Registrar of Political Parties head, Ann Nderitu, removed his name from Jubilee Party members.