Virtual reality glasses are usually heavy and cause discomfort in use for longer. This usually happens because of its optical design, that is, the glasses need to enlarge the screen in a wide field of view (FoV), and also need to focus the object at a visible distance, and the object needs to house all of this, which it generates a weight that exceeds 400 grams, which can increase even more if it is the case of a battery, chips and other resources.
A concept displayed by Facebook solves these problems. The giant led by Mark Zuckerberg shows ultra-thin virtual reality glasses, which look like ordinary sunglasses. They use holographic optics and other technologies to decrease their size.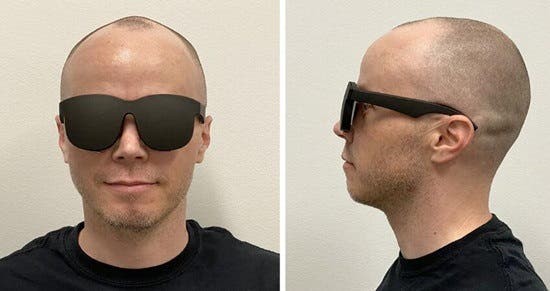 It is worth mentioning that the design of these glasses is only conceptual, and Facebook insisted that its work with the model is purely research oriented. For this, instead of bulky lenses, a thin film focuses on the holographic lens. For Facebook, this concept can "offer a field of view comparable to today's VR headsets, using only thin film for thickness less than 9 mm".
Except for the actual laser source, the weight of Facebook's ultrathin glasses is only 18 grams, and the prototype produced, with only green color, the maximum field of view is approximately 92×69 °.
The device uses lasers at specific angles and wavelengths as the only source of practical lighting, because holographic elements disperse light. For now, it is only monochromatic in green, but Facebook believes that, with more engineering work, it will be possible to bring more colors.
Some companies have been working to reduce the weight of the glasses, since a device weighing 500g on the head is not very comfortable. Facebook has been working in virtual reality for a long time, with large investments in that division.