Available on smartphones since March of last year, Lite Mode in Chrome is without a doubt one of the most useful implementations made by Google, allowing users to save data thanks to website optimization and thus favoring those who have more basic packages.
However, one of the points that was still pending to be revised is how the search giant's official browser handles videos, something that the company is starting to review now, with the availability of the new version of Chrome Canary, a version that is considered the home of the tests for the stable browser.
According to a publication made by Techdows, the new functionality is expected for Google Chrome 86, with the expectation of also reaching the browser on other systems, being listed as compatible Windows, macOS, Linux and Chrome OS, something that is confirmed in the area of browser tests.
Those interested in testing the new functionality can do so by downloading Google Chrome Canary and activating the functions "Enable LiteVideos" and "Force LiteVideos decision" within the area of ​​experimental features through the command chrome: // flags.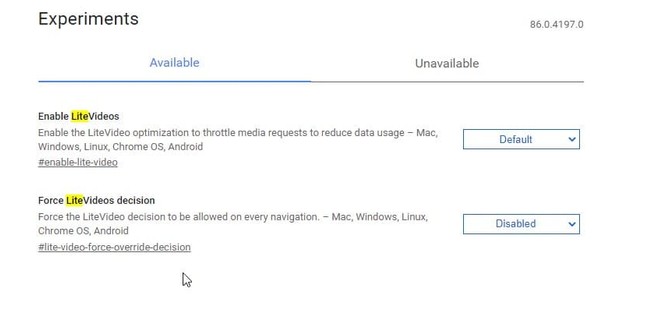 When activating both functions, the browser will start to command multimedia players to use lower bitrates and reproduce with the minimum possible resolution while Lite Mode is being used. In addition, it is also worth mentioning that if the user reloads the page or navigates forward or backward in the browser.
To close, we also have the expectation of arrival of this new feature to Google Chrome (stable) later this year, to be more exact, in the month of October.