An explosion in Beirut, Lebanon has killed at least 100 people, according to the Associated Press.
Those who felt the blast said that it had a magnitude of an earthquake. Indeed, videos of the blast are chilling.
The shockwave from the devastating blast spread across the suburbs in Beirut, causing large-scale destruction in areas far from the epicentre of the blast.
"It is a catastrophe, I've never seen something like that."

Lebanon is in a state of emergency following a massive explosion in Beirut that killed at least 100 people and injured thousands.

Follow our LIVE coverage on the #BeirutBlast: https://t.co/8qEDq3qL5R pic.twitter.com/kSrpNt4oGf

— Al Jazeera English (@AJEnglish) August 5, 2020
Streets and homes were littered with shattered glass and debris, walls gaping with large holes, as some houses fell completely.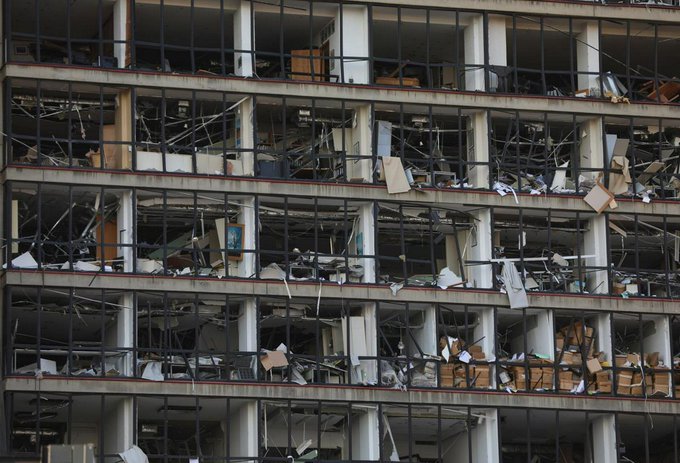 Shattered buildings in Beirut after the blast. Photo – courtesy
Authorities believe that the death toll will likely rise even further as they comb through the rabble.
Possible cause of the explosion
Bomb experts have stated that the blast was a result of more than 2,700 tons of ammonium nitrate. The chemical is commonly used in the making of explosions and bombs.
However, they are yet to establish what may have led to the chemicals blowing up.
Lebanon health Minister, Hamad Hasan, told Reuters that nearly 4,000 people had suffered injuries from the blast. Many more were still missing.
"There are many people missing until now. People are asking the emergency department about their loved ones and it is difficult to search at night because there is no electricity."
He called the Beirut situation a real catastrophe that needs time to assess the extent of the damages.
Magnitude of the blast
Medical staff took to treating the injured at the parking area of Geitawi Hospital after the city's hospitals became fully occupied.
As of this morning, the city fire department had managed to contain most of the fire, with the task now being on finding those missing.
The true magnitude of the blast continues to unravel. People who experienced it continue to share images and stories of the shockwaves that rippled throughout the city.
Beirut is a city of 5.2 million people, and to each of the residents, the blast was close to an apocalypse.