The WHO Director-General, Dr Tedros Adhanom, has welcomed the United States' move to relax patent laws on COVID-19 vaccines.
In a statement late on Wednesday night, Dr Tedors called the moment 'monumental' and an example of good leadership.
A monumental moment
"This is monumental in the fight against COVID-19," Dr Tedros said, "The commitment by President Joe Biden and the US Trade Representative to support the waiver of IP (intellectual property) protection on vaccines is a powerful example of good leadership to address world health challenges."
Dr Tedros said that the move was a historic decision that would boost the push for vaccine equity, prioritizing people's wellbeing the world over.
"Now, let's all move together swiftly and in solidarity, building on the ingenuity and commitment of scientists who produced life-saving COVID-19 vaccines," Dr Tedros added.
This is a monumental moment in the fight against #COVID19. The commitment by @POTUS Joe Biden & @USTradeRep @AmbassadorTai to support the waiver of IP protections on vaccines is a powerful example of 🇺🇸 leadership to address global health challenges. pic.twitter.com/3iBt3jfdEr

— Tedros Adhanom Ghebreyesus (@DrTedros) May 5, 2021
Waiver a move to end COVID pandemic
On Wednesday, the United States Trade Representative announced that they would be relaxing, temporarily, the IP protection laws. The relaxation would allow for widespread manufacturing of COVID-19 vaccines by manufacturers other than the Pharmaceuticals that developed the vaccines.
"The Administration strongly believes IP Protections, but in service of ending this pandemic, supports the waiver of these protections for COVID-19 vaccines," read part of the US Trade Representative statement.
They said that they would now participate in text-based negotiations at the World Trade Organization to make it happen.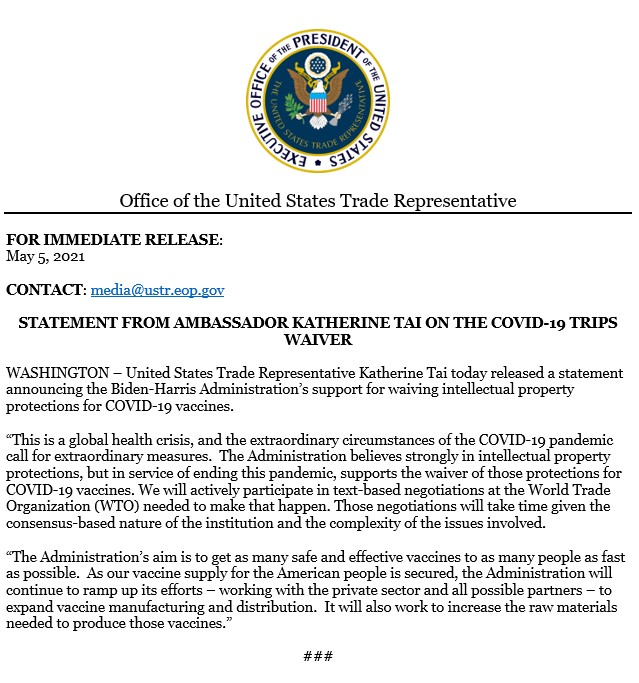 Vaccine inequity
COVID-19 vaccinations across the world have crossed 1 billion. However, most of the vaccines given (about 80 %) have been in wealthy nations. Countries in the global south account for just 0.3 % of the vaccines administered.
Thus, this is why countries in the global south, like Brazil and India, accounted for almost half of the world's COVID cases in the past week. The two are also seeing heavy mutations in their COVID-19 strains.
However, there is now hope that the temporary relaxation of the IP Protection laws will provide raw materials for widespread vaccine manufacturing.